The strength lies within.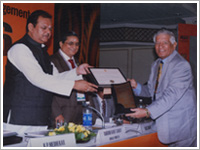 Bakshi Security & Personnel Services Pvt. Ltd., Mumbai based company is dedicated to providing premier security services. We at Bakshi Securities not only encourage and promote feelings of safety, but we ensure it.
Bakshi Security offers a range of services unparalleled in the security industry. Our personalized approach is both professional and reliable. Our officers are steadfast and unswerving when it comes to the safety of our clients and their valuables. Our reputation in the security industry for personal attention is recognized as the best in the community. We approach each client individually, matching security associates and supervisory staff to their unique needs. We focus on our client's specific requests and requirements, delivering a proactive resolution, not a reactive response.
With Bakshi security, one of the leading security agency through its nurtured guards, armed servicemen, well trained canines... you can be assured of your safety - anytime, anywhere.